WooCommerce has support for many types of currencies. However, there are many other currencies are not supported including Arab countries'. If your store is using these currencies:
Moroccan Dirham
Egyptian Pound
Iraqi Dinars
Syrian Pound
Lebanese Pound
Jordanian Dinar
Yemen Riyal
Libyan Dinar
Sudanese Pound
Tunisian Dinar
Algerian Dinar
Mauritania Ouguiya
Emirati Dirham
Somali shilling
Djibouti Franc
Comorian Franc
Bahraini Dinar
Kuwaiti Dinar
Omani Rial
Qatari Riyal
Saudi Riyal
Then you need to install a plugin to use them on your store.
Luckily, there is a plugin for this purpose.
Let's download the plugin here:
And install it on your site.
Now, to use the new currencies, let's go to WooCommerce->Settings then scroll down to the currencies section: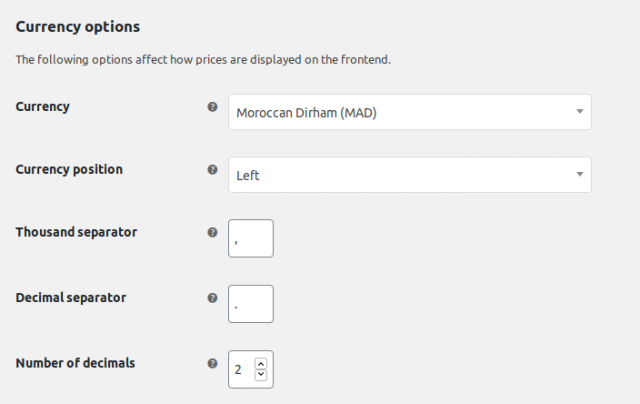 In the currency select box, you can search for your currencies there.
What if you don't want to use a plugin?
There are cases you only need to add one or two currencies to your site, you may not want to use a plugin. Then, you can follow my tutorials here. By following that tutorial, you can quickly add your own currencies and their symbols without having a new plugin on your site.
I hope you enjoy the tutorial. If you have any questions, don't hesitate to ask.