As you know, competition is much more intense now. Not every online store finds its way into the market. Even websites with decent products struggle to make a profit. So how can we be better than our competitors? That's the question that has led to various marketing techniques over the past decade.
The good news is that you don't need to be a marketing specialist to benefit from them. There are standard and well-tested techniques that can give you great results with little cost.
In this article, we review seven WooCommerce marketing plugins.
These plugins can differentiate between a profitable online business and a boring website that doesn't sell very well. With these plugins, you can integrate various marketing techniques right into your WooCommerce store. No coding or technical knowledge is required.
Follow-Ups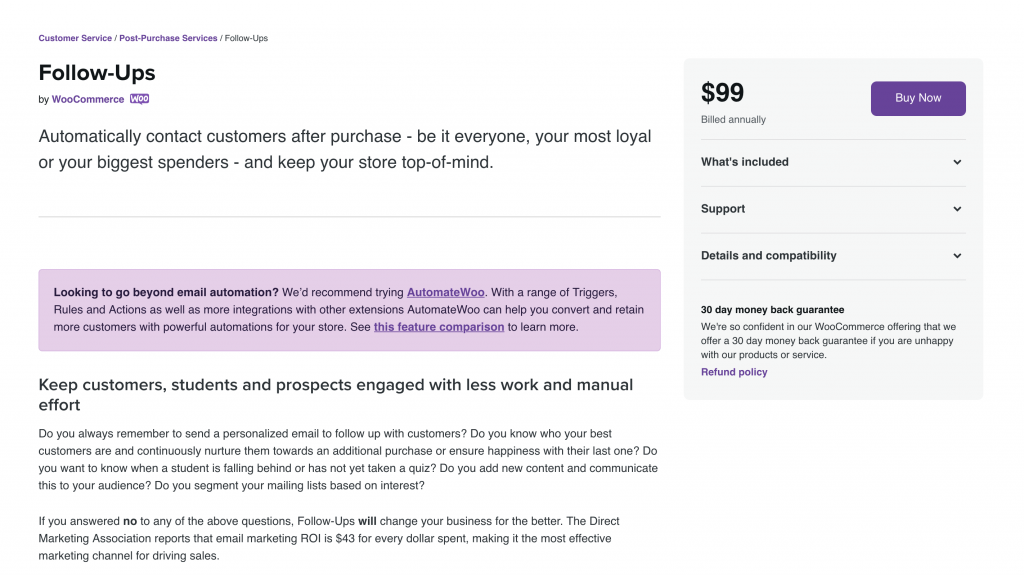 Have you noticed how eCommerce websites send you emails regularly based on your actions and preferences? They are called Follow-Up emails. If used correctly, follow up-emails are a great way to prevent your customers from forgetting about you.
Follow-Up is a premium WooCommerce extension plugin developed by the same team behind WooCommerce. It allows you to define and create customized emails and send them automatically to customers at specific intervals after an action. You can design your fully customized follow-up email templates from the default WordPress post editor and automate them based on different customers' actions.
It gives you almost everything you need to run your unique Follow-Ups campaigns.
Price:$99 (Billed annually)
Features:
send automated email based on actions like making a purchase, taking a quiz, signing up for an account, and at specific intervals after the action
Various responsive email templates to choose from
Integration with Google Analytics and WooCommerce Subscriptions
It allows you to use the WordPress Editor to design custom templates.
Full-fledged reporting system
Smart coupons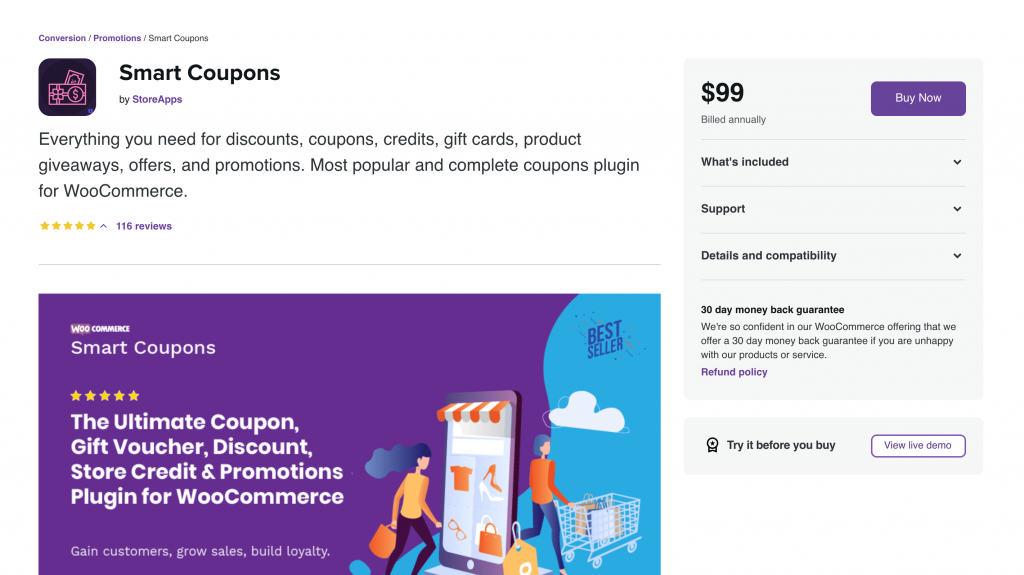 Everyone loves coupons, and while WooCommerce supports coupons out of the box, there is much more to achieve. Smart coupons allow you to easily implement discounts, credits, vouchers, product giveaways, offers, and promotions right into your Woocommerce store. It allows you to automatically generate and email coupons based on customer actions like registration or purchase.
Price:$99 (Billed annually)
Features:
Fixed Amount & Percentage Coupons
Bulk coupon Generation, import / Export
Shareable / Social Media / URL Coupons
Free Gift Coupons / Product Giveaway
Location-based Coupons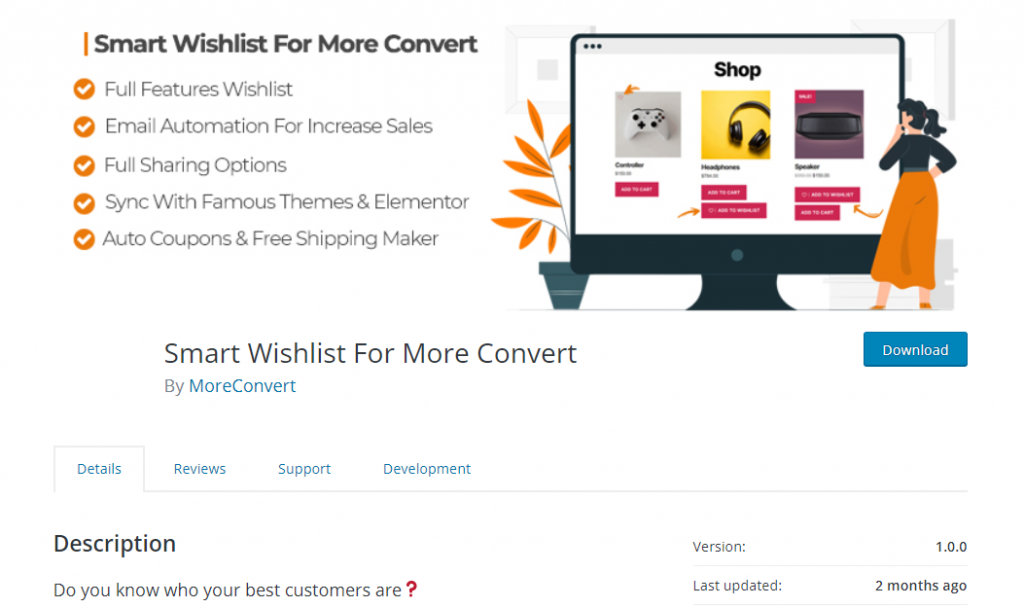 The Smart Wishlist For More Convert allows you to add complete wishlist functionality to your WooCommerce website. With this plugin, you can let your users save their favorite products to their wishlist. They then can find their saved products or share them with their friends. This plugin will increase customers' loyalty and sales.
Price: free
Free features
Automate promotional emails to users with a specific product on their wishlist or other conditions.
The ability to disable the wishlist features for unlogged users
Allow users to buy products with dedicated coupon
Allow users to move an element from one wishlist to another.
Increase sales by offering favorite products to potential customers.
PW WooCommerce Gift Cards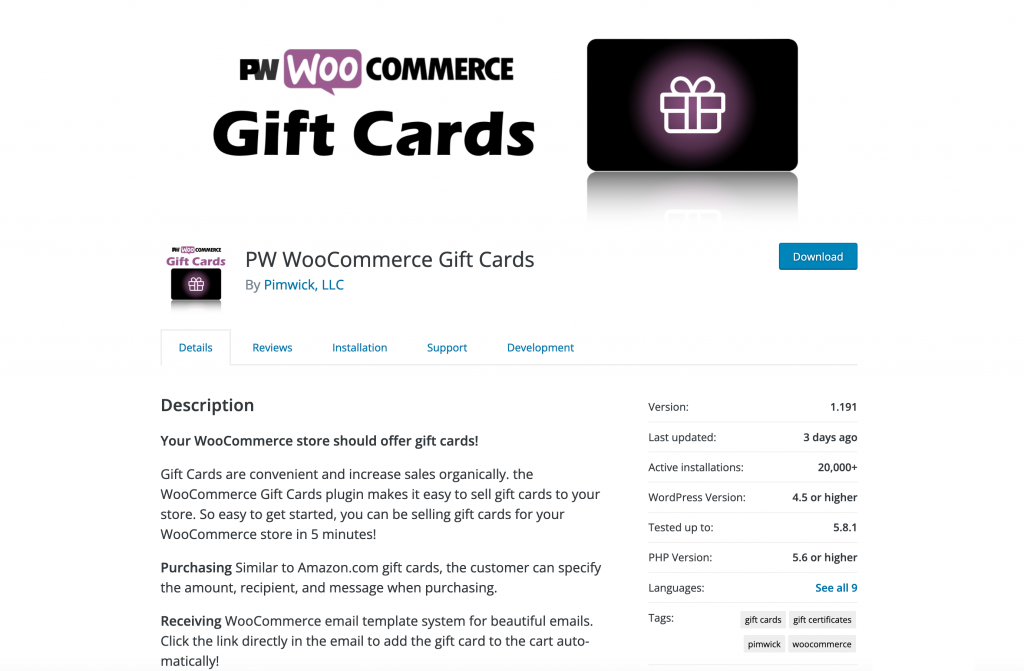 Who doesn't like to receive gift cards? Based on the National Retail Federation survey, nearly six in 10 (58.8%) consumers say they would like to receive gift cards as holiday gifts [1]. While there are different gift card plugins for WooCommerce, PW WooCommerce Gift Cards stands out and is our go-to plugin for gift cards. It allows you to easily create gift cards with different prices and let your users gift them to their friends and families. This plugin is an awesome way to increase your sales without any advertisement cost.
This plugin comes in free and pro versions. You can add a complete gift card mechanism to your WordPress store, including gift card purchasing, customization, and Redeeming with the free version. The pro version extends that even further. It provides you with different customization options for the coupon amount, expiration date, and more.
Price: free and paid ($59/ year)
Premium features
Allow customers to specify the amount. You can set a minimum and a maximum amount.
Allow customers to schedule when a gift card will be delivered.
Choose an amount that will be pre-selected when purchasing a gift card.
A shortcode to let customers check their gift card balances.
Automatically set an expiration date based on the purchase date.
Specify the amount and quantity for the cards to create multiple cards in one step.
REST API
SUMO Reward Points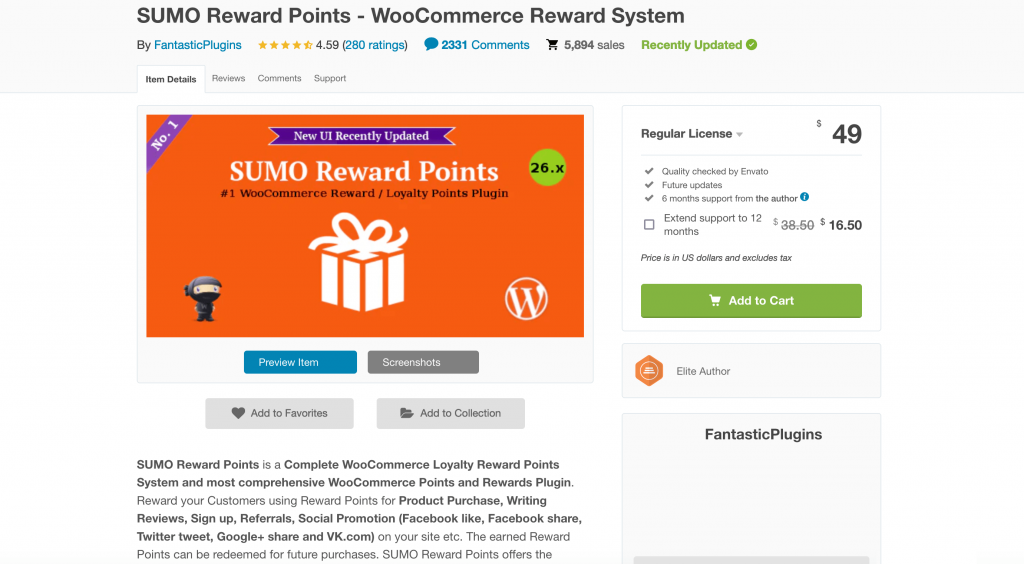 Rewarding and loyalty programs can boost Customer retention and increase sales over time. If you aren't leveraging that, then it's time to do so. SUMO Reward Points is a Complete Loyalty Reward Points System for WooCommerce. It outsells any other plugin Rewarding plugin on Codecanyon and has a 4.60 out of 5 ratings. It allows you to reward your customers not only for their purchases but also for Signup, Writing Reviews, Referrals, Coupon Codes, Blog Post, Social network shares, and more. This plugin has tons of customization options that you should try yourself.
Price: ($49)
Premium features
WPML, WPML String Translation, and WooCommerce Multilingual Compatible
Reward Points for Product Purchase, Signup, Writing Reviews, Referrals, Coupon Codes, Blog Post, etc.
Import/Export Users and Reward Points in CSV
Gift Vouchers with Reward Points
Member Level Feature
WooCommerce Cart Abandonment Recovery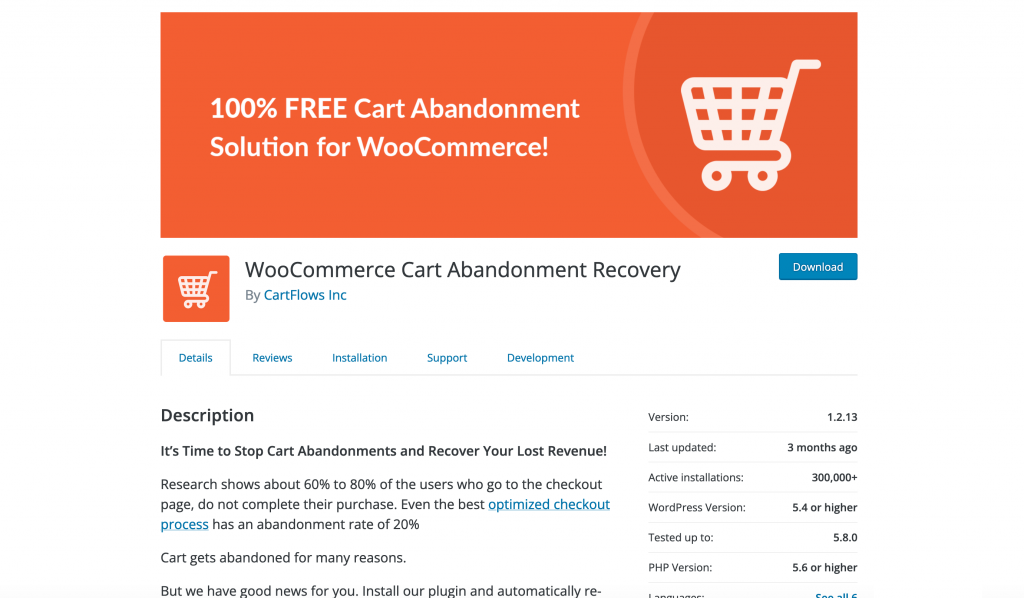 Various studies have shown that roughly 3/4 of shoppers leave their cards [2]. That's why many big brands are using different card abandonment techniques to bring customers back to their cards. WooCommerce Cart Abandonment Recovery by CartFlows Inc captures the email address of users on the checkout page. If a customer doesn't complete a purchase within 15 minutes, it starts sending a series of emails to bring them back. You can customize the timing and the email templates to match your brand. This plugin is free.
Price: (free)
features
Email a unique checkout link to each shopper that takes them exactly where they left off.
GDPR Compliant
ready templates for follow up emails:
generate limited-time unique discount coupons to entice your shoppers and send them automatically via email.
complete Reports
Customer Reviews for WooCommerce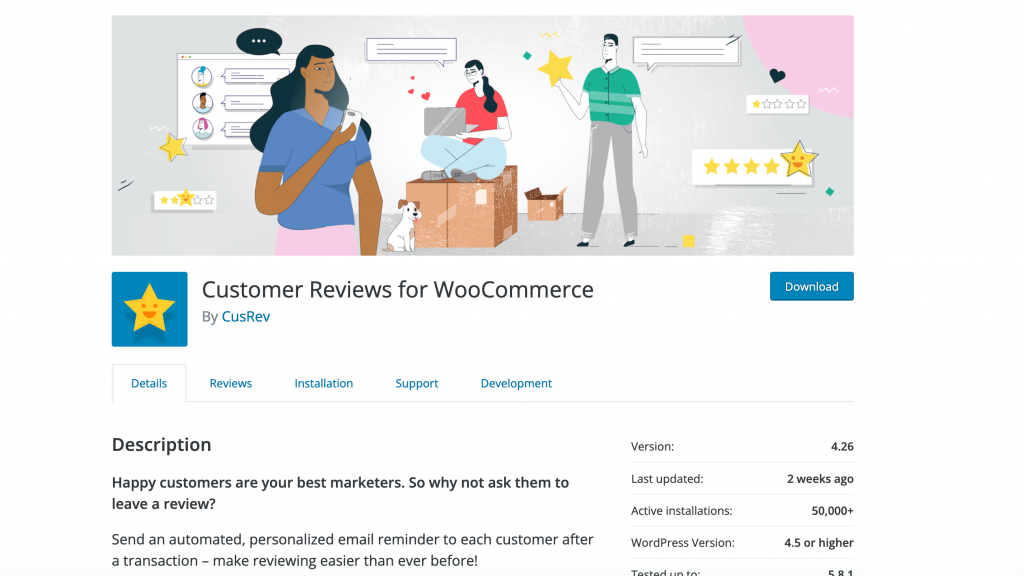 Do you remind your customers to write reviews? If not, then you definitely should. Customer reviews can boost sales by 18% [3]. Customer Reviews for WooCommerce allows you to Send automated, personalized email reminders to each customer after a transaction, reminding them to review the product they have purchased. The free version is already very useful and gives you all the common features you need. You can get some more features plus support in the premium version.
Price: free and paid ($49.99 + VAT billed annually)
features
automated or manual review reminder emails
Aggregated review forms to allow quick and easy reviewing
Enhanced reviews, including ratings, images, voting, and filtering options
Offer discounts in exchange for reviews
Question and Answer feature, allowing customers to ask and answer FAQ
Import and export reviews
AutomateWoo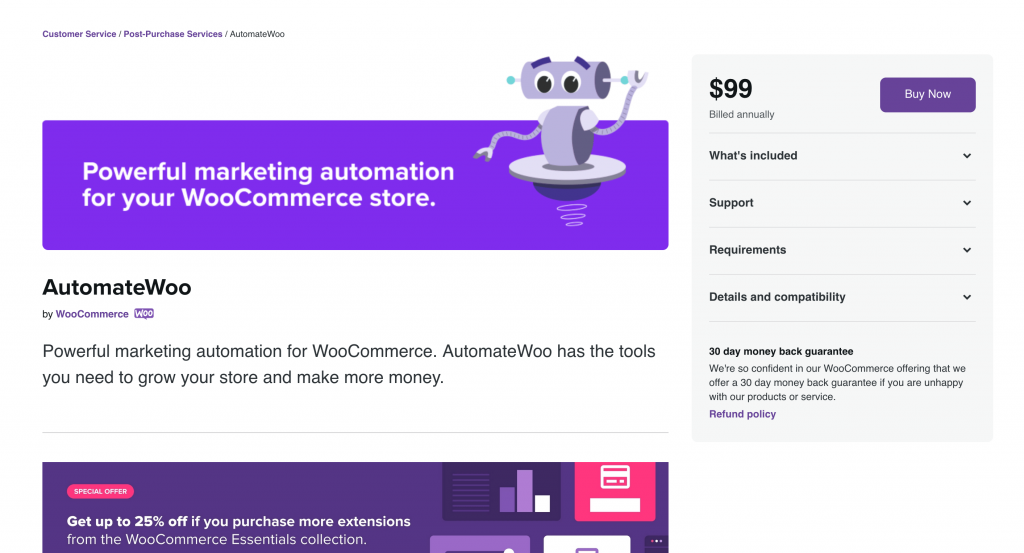 AutomateWoo is a powerful marketing automation tool for WooCommerce. It allows you to create marketing workflows that are automatically started by a trigger, like a customer making a purchase or when a specified date like a customer's birthday arrives. You can customize each workflow using triggers, rules, and actions. A trigger is an event that starts the workflow. Rules let you specify when the workflow should run. Finally, actions are automatically done when the specified rules are met. While you can achieve almost everything this plugin does by combining smaller single usage plugins, this plugin saves you from the headache of working with 10 or 15 different marketing plugins. It also gives you different metrics of your automation status, all in one place.
Price: paid ($99/ year)
features
various triggers to choose from
detailed statistics of automation workflows
easily modify your triggers with different rules
integration with WooCommerce subscription, WooCommerce points and rewards, and WooCommerce wishlists plugins
Funnel Builder by CartFlows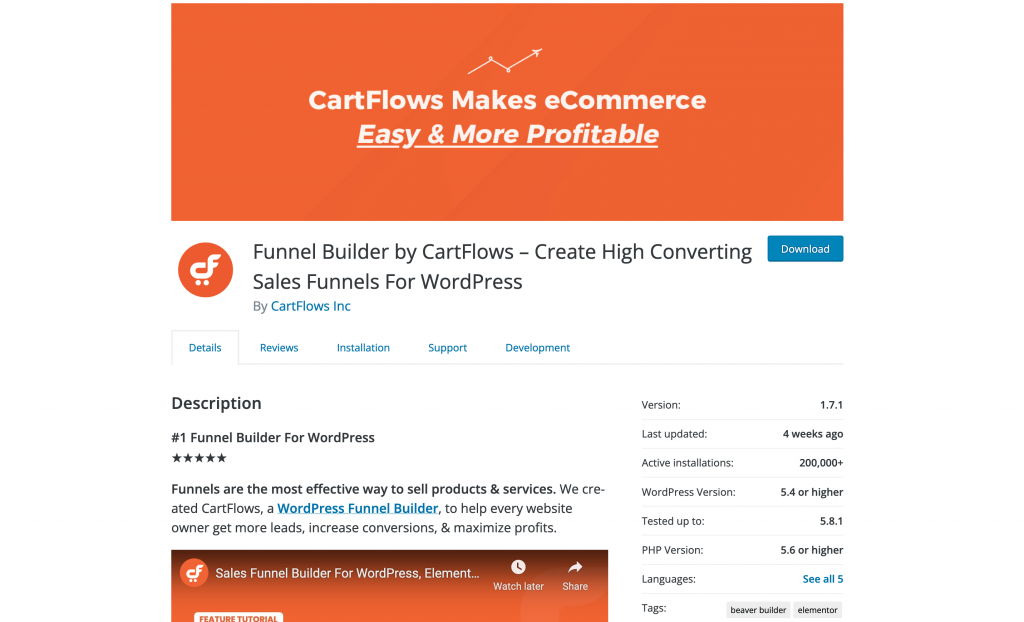 A sales funnel. A marketing term to describe the potential journey customers go through on their purchases. Optimizing your sales funnels is an inexpensive organic way to increase your conversion rate and sell more even with the same number of visitors. Funnel Builder by CartFlows lets you change default funnels used by WooCommerce to get more leads and increase conversion. It also includes various templates to choose from. You can also use page builders like Elementor and Beaver Builder to customize your templates to match your brand. While the free is a good starting point for optimizing your sales funnels, the paid version gives you .more features and support.
Price: free and paid ($239/ year)
features
integration with popular page builders
premade templates to choose from
WooCommerce Checkout Page Replacement
Affiliate For WooCommerce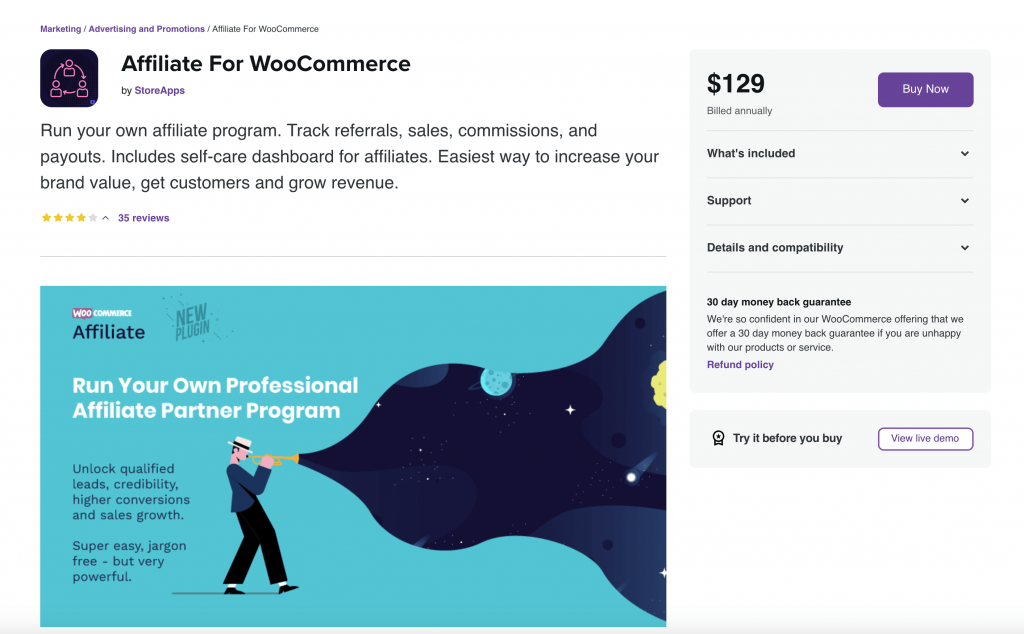 An affiliate program is an agreement in which a business pays another business or influencer a commission for sending traffic to their product.
Affiliate For WooCommerce is a premium plugin specifically made for WooCommerce. It allows you to run your affiliate program by allowing anyone to participate. The nice thing is that everything is done automatically. You can then easily track your affiliate programs with detailed statistics.
Price: paid ($129/ year)
features
easy setup
Allow people to sign up as your affiliates. Approve them and set them up to receive commissions
Track affiliate progress and adjustments
Easy payouts via PayPal
A/B Testing for WooCommerce (paid)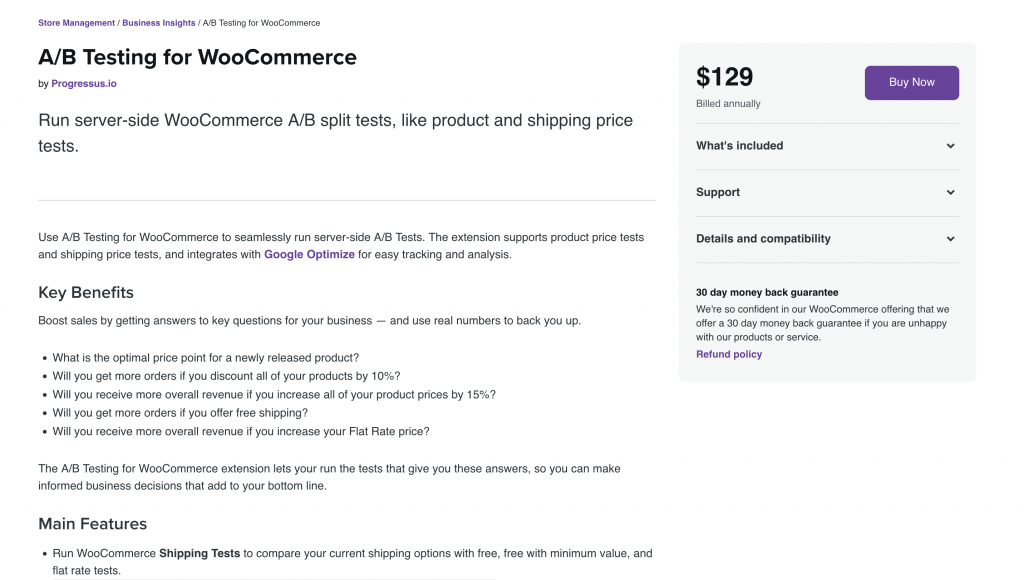 Should I offer free shipping for cards above $100 or not? Will I get more orders if I discount all of my products by 10%? These are website-specific questions that are best answered by using a marketing technique known as A/B testing. A/B testing is a marketing method where we set up two different versions of a webpage live and compare the results to choose the best version. A/B testing is a standard and reliable marketing technique. All big brands use it. A/B Testing for WooCommerce makes it a breeze to run server-side WooCommerce A/B tests, like product and shipping price tests. It tracks users by cookies, so each unique visitor will only receive one consistent experience.
Price: paid ($129/ year)
features
easy setup
run Shipping and Price Tests
Track and analyze test results using Google Optimize and Google Analytics services.
Discount Rules for WooCommerce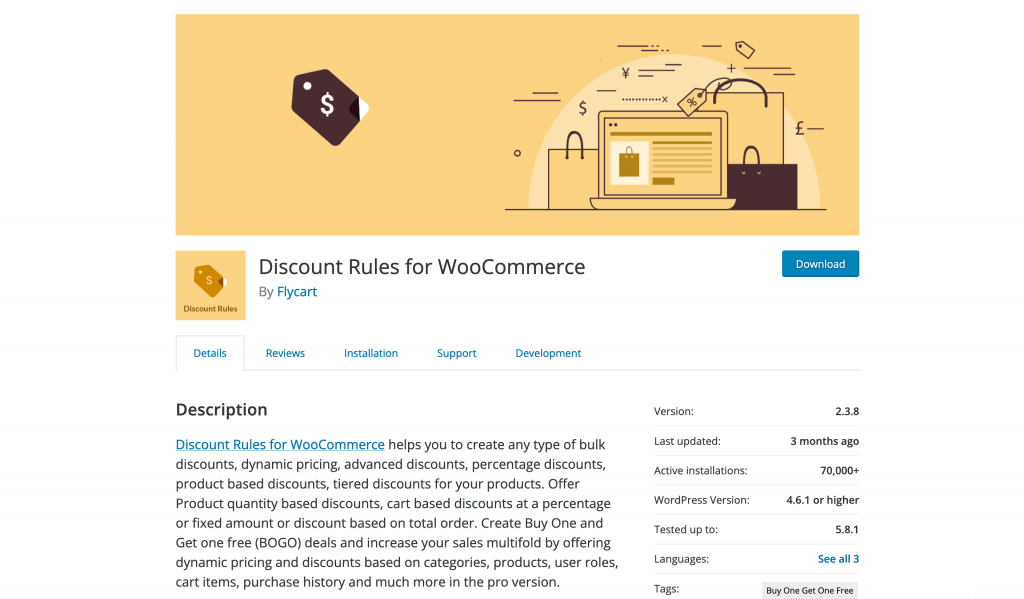 WooCommerce supports discounts out of the box. But it has limited options for creating and managing discounts. Discount Rules for WooCommerce lets you create many kinds of discounts that WooCommerce doesn't offer. You can create Buy One and Get one free (BOGO) deals, discounts based on categories and products, order total-based discounts, and many more. While the free version gives you a few different discount rules to start with, the pro version has almost any type of discount you can imagine.
Price: free and paid ($49/ year)
pro features
various discount rules to choose from
Discount based on the number of orders placed earlier
Bundle / package deals
discount for customers with specific email domains
Scratch Coupon for WooCommerce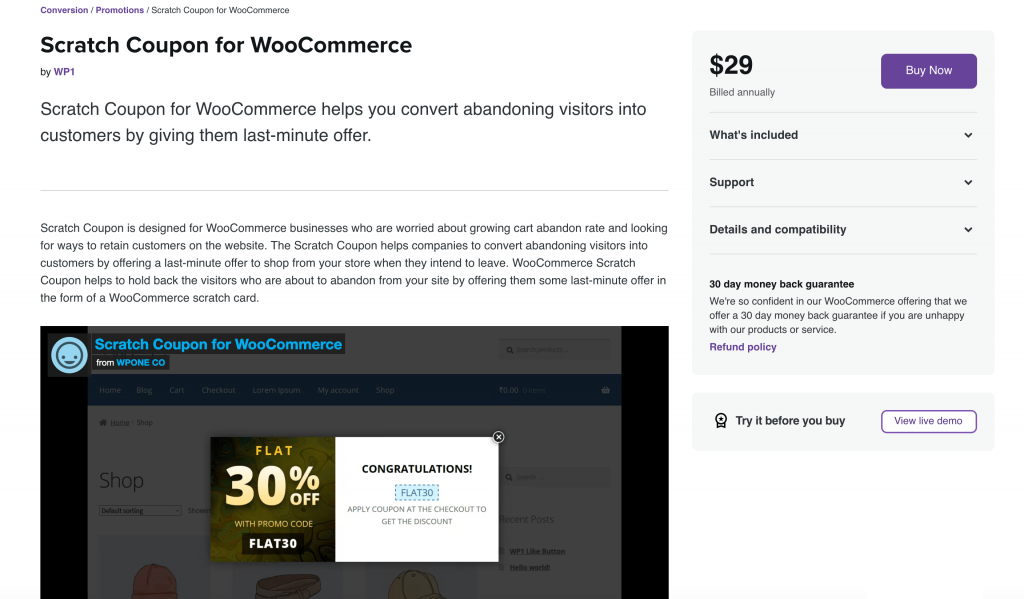 Last-minute offers are an intelligent way to increase sales without reducing the price for everyone. Scratch Coupon for WooCommerce is a premium plugin just to do that.
It creates Scratch cards, which need to be scratched by users before activating/revealing the offers. Users can drag their mouse or finger across the screen to y see the coupon. You can customize texts, colors, and images to match your brand.
Price: paid ($29/ year)
features
Easy customization options
manage when and on which page the popup should appear
Mobile responsive