By default, there are only two parties that get emails when an action is performed in WooCommerce. They are the store owner and the customer.
For example, when an order is placed, the store owner gets one email, the customer get one email.
What if you want to add additional recipients to those emails? Maybe your wife says: "Hey, add my email so I can see how well you are doing".
Who can refuse, right?
OK, you have your own reasons. No matter what they are, today, I'm going to guide you how to enable WooCommerce additional email recipients.
How to enable WooCommerce additional email recipients
Were are going to need a free WooCommerce plugin for this. Let's download https://wordpress.org/plugins/wc-multiple-email-recipients/ to get started.
The plugin is very simple and its interface is easy to use.
After you install and activate the plugin, click on the Settings link right below the plugin's name:

Here is its dashboard: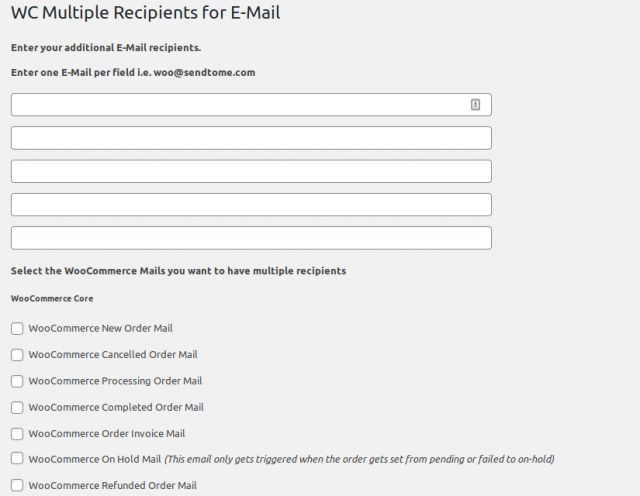 You can see that there are 5 fields for you to enter additional emails. That's right, you can't enter more than 5 addition emails. Most of the time, people are happy with this limit. However, if you want to add more than 5 people to receive your store's emails (maybe all your family members want to know how well you manage your store), then please let me know. I can do a custom work for you.
Next, you'll notice a list of checkboxes. Those are the emails that you want to send to those additional addresses. For example, you want to save your wife from those brutal refund notifications. Thus, you will not tick the box at the left of refund emails.
Plugin's limitations
There you have it: a simple plugin that helps you enable woocommerce additional email recipients. In my opinion, this plugin serves its purposes well. However, there are some limitations:
You cannot restrict what emails are sent to what addressed. Once you enter the email addresses in one of those 5 fields, they will get all the emails that checked.
You only can send to 5 emails
Conclusion
So, what do you think about the plugin? Do you have any suggestions to make it even better? Please leave your comments below.