At the time of this writing, WordPress is the most popular blog platform on Earth and WooCommerce is the most popular e-commerce platform. That's why they are the target of many malicious attacks. Keeping your WordPress (including themes and plugins) up to date is one of the most effective way to keep your site secure.
If you are like me, you'd probably have more than one website and there are sites that we visit more frequently than other. For sites that we visit the dashboard usually, we can update WordPress (including themes and plugins) very often. However, for sites that don't get much attention, we may miss some updates, including important ones.
How to get notified when updates are available
You may wonder, since keeping WordPress up to date is vital, is there any way to keep us informed with the available updates? Fortunately, the answer is yes. Better yet, there is a plugin that does that job for free. Let's learn how to install the plugin and configure it so you don't miss any updates, especially critical ones.
Here is the step by step tutorial
Step 1. Install  and activate WP Update Notifier
First of all, you need to install a plugin called WP Update Notifier .
You can either download the .zip file following the link above or search for it in your site's dashboard.
There is one small issue with the plugin is it hasn't been updated for 3 years. While the main functionalities are working properly, there is a minor issue with deprecated function (function that no longer supported by WordPress). I've removed the line of code that caused the deprecated  notice and pack the plugin again here. You can download and install my version instead.
Download new version of the plugin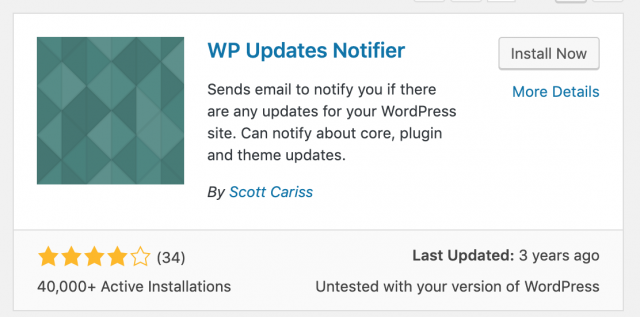 Step 2: Configure the plugin
After the plugin is activated, you can find its admin page under Settings->Update notifier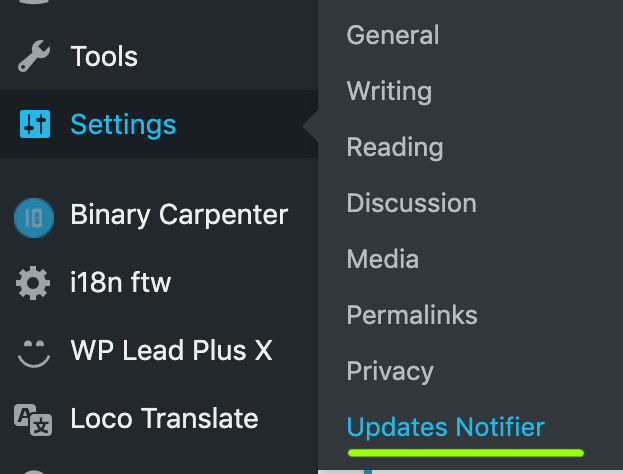 You'll see this page appears: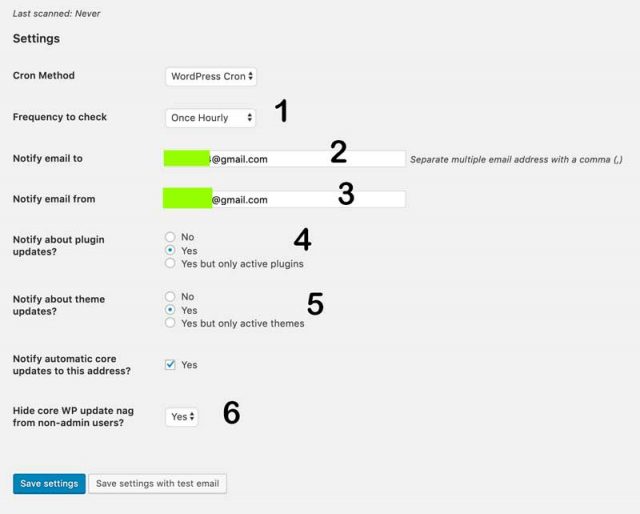 The settings are straightforward and easy to understand. You can leave most of the settings to default. Here are the settings in details:
Frequency to check: How often do you want the plugin to check for update? I usually set it Daily for my site but you can set it to Hourly or Monthly…
Notify email to: by default, this is your admin email. This is the email you want to receive the update notification
Notify email from: The email that appears in the from field of the notification email
4 and 5, check if you want to receive notifications about plugins and themes updates. I'd recommend you leave this enabled (yes)
Hide core WP update nag… If you want to hide the WordPress core update notice from non-admin users (in case your site has other users with different roles) then select yes
Now, you can click on Save settings to save the options. If this is the first time you use the plugin, I'd recommend you click on the white button: Save settings with test email.
Troubleshooting
If your email setting is correct, you should have no problem getting update notifications to the email you specified above. However, some servers may not have the correct email sending function configured properly. If your site is hosted on such server, you may not get any email.
In that case, please check this guide here to fix the email sending function on your site.
Conclusion
Now you don't need to worry about your site is not at risk because your WordPress core or themes or plugins are not up to date. With WP Update Notifier, you can act instantly once updates are available.