Working with big Excel spreadsheets never have been easy, especially when you need to search for a piece of text in a file that have thousands, even ten of thousands rows. Searching through a single file can cost you hours, if not days if you work on a slow computer. To make the matter worse, sometimes you need to search in multiple files and search for multiple strings.
Let me give you an example.
I have this excel file contains a list of order from a local store. For some reasons, the owner needs to search for the items with order ID "CA-2016-108210".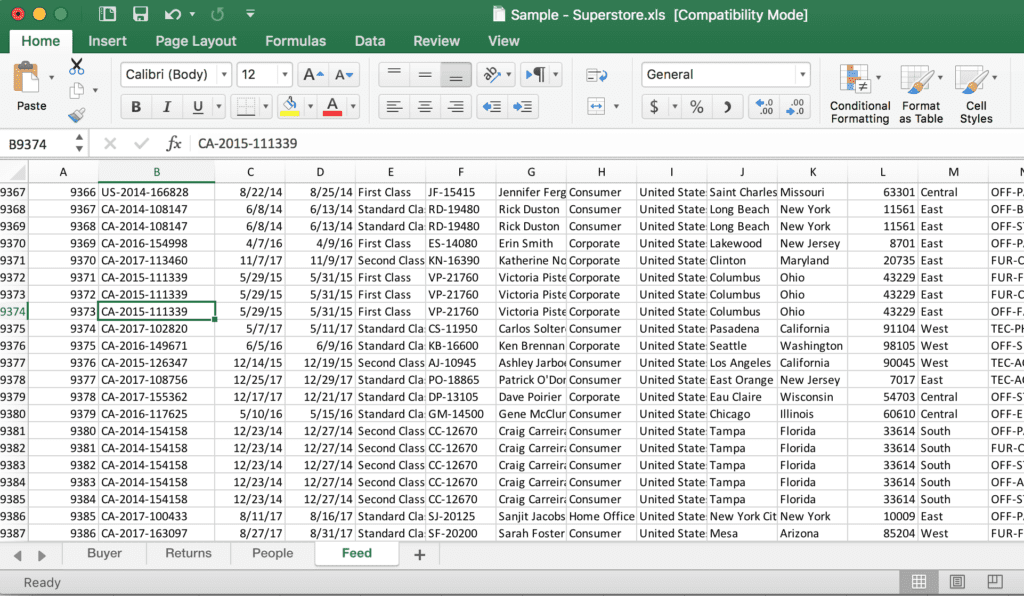 Normally, you would press Ctrl+F or Command + F on a Mac to start searching. The file only has 10,000 rows and it takes me a second to find the match. If there are ten matches, you may need ten seconds. The problem becomes harder when you need to search through many sheets and multiple files.
There is always a better way, right?
Luckily, there is a better way to do this boring task, which is using a pieces of software made exactly to do this task.
Let's have a look at the software and how it works.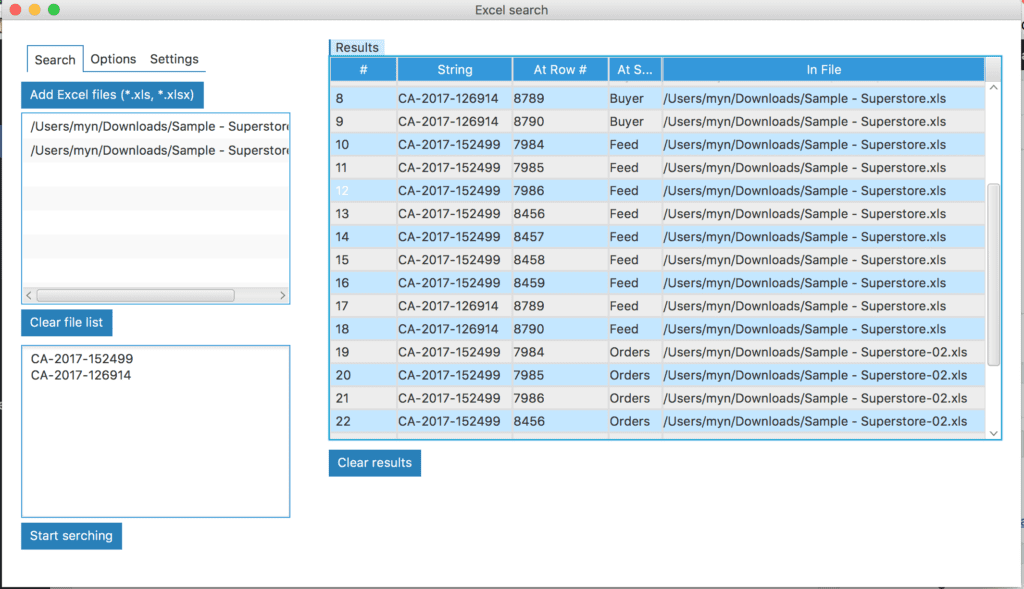 As you can see, this is the software that solves the searching problem in big excel files. You see its true value when you have many files to search and many text to find. Also, the larger the files, the more time the software can save you.
This is the way this software work step by step:
You select the file or files you need to search by clicking on add excel files button at the top left of the panel. You can select multiple excel files using this button.
Then, enter the text you want to search in these files, you need to enter one search per line. There is no limit.
Click on start searching
It takes some time for the software to go through the files and find the text you want to find. As you can guess, the bigger the files, the longer it takes to find all matches. However, in comparison to a human, the software is much quicker, by hundreds times.
You may wonder, is this for Windows only? Good news is Excel Ultimate Search works perfectly on Windows, Mac, and Linux (Ubuntu, Fedora, Centos…)

Download Excel Ultimate Search
You can start using the program for free by downloading it here:

When you need more features, feel free to upgrade using the links below: